<!- google_ad_section_start ->
Arthur and the Square Knights of the Round Table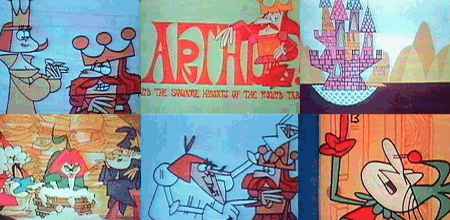 Synopsis of Saturday Morning Show
This British cartoon spoof of the Camelot legend was a hit in its native country, but never rose out of obscurity here in the United States. Only a handful of 7-minute cartoon shorts made it into American syndication in 1968.
The show highlighted the sillier aspects of life at the Round Table, complete with a dense Sir Lancelot and an even denser Black Knight (although unlike a certain other sendup, this one kept all his limbs...) Opposing the short Arthur, the sexy Gwenevere, Lancelot, Merlin, and the court Jester were the wicked sorceress Morgana and the aforementioned Black Knight.
Camelot always fares well when it is presented as a "silly place," and it's too bad this attempt was marred by its low American profile.
Release History
Syndicated: 1968
TV Sub Categories
animated
TV Studio
Air Programs International
Other Saturday Morning Links
<!- google_ad_section_end ->