<!- google_ad_section_start ->
All Dogs Go To Heaven: The Series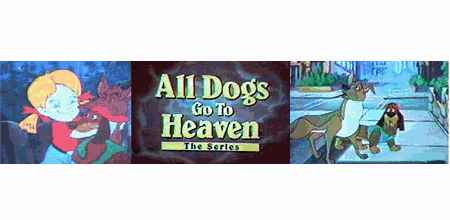 Synopsis of Saturday Morning Show
Don Bluth's 1989 animated feature, All Dogs Go To Heaven, featured a roguish mutt named Charlie, who died, went to heaven (as all dogs do), conned his way back to earth for vengeance on his killer, then found redemption through a little orphaned girl. The film warmed audience's hearts, spawning a film sequel and this animated series.
All Dogs Go To Heaven: The Series cast Charlie and doggie pal Itchy as guardian angels to kids in need. The show was a family comedy, with Charlie and Itchy getting mixed up in several misadventures while trying to do the right thing. Charlie's villainous rival, Carface, also carried over into the series, as did Charlie's pooch pals Sasha, Annabelle, and Killer.
Most of the voice actors from the feature film reprised their roles in the series, including Dom DeLuise, Ernest Borgnine, Charles Nelson Reilly, Bebe Neuwirth, and Sheena Easton.
Release History
9/21/96 - 2/28/98 syndicated
7/31/98 - 11/6/98 Fox Family
TV Sub Categories
animated
comedy
TV Studio
MGM, Claster Television
Television Cast
Charlie B. Barkin Steven Weber
Itchy Dom DeLuise
Sasha Sheena Easton
Carface Ernest Borgnine
Killer Charles Nelson Reilly
Annabelle Bebe Neuwirth
Other Saturday Morning Links
<!- google_ad_section_end ->