<!- google_ad_section_start ->
Disney's Aladdin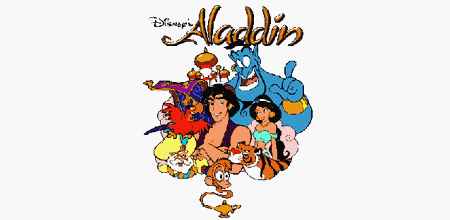 Synopsis of Saturday Morning Show
Disney's animated adventures of a young "street rat," his royal girlfriend, pet monkey, flying carpet, and personal genie crossed over to TV in the fall of 1994, two years after the theatrical feature Aladdin. Coming on the heels of the direct-to-video sequel The Return of Jafar, the series picked up where that installment left off, with Aladdin still living on the streets of Agrabah, still unwed to beautiful and spunky Princess Jasmine.
Disney's Aladdin continued the fantasy/magic adventures of the feature films, carrying "Al" and Jasmine into peril among sorcerers, mermaids, thieves, and more. Monkey sidekick Abu and the fast-talking, shape-shifting Genie came along to help, as did sassy, complaining parrot Iago, formerly Jafar's pet but now a grudgingly good guy. In place of movie villain Jafar, the series introduced evil sorcerer Mozenrath, inventor Mekanikles, and weaselly thief Abis Mal, among others.
Debuting simultaneously on Saturday morning and as part of the syndicated weekday Disney Afternoon, the show set a pattern for several future Disney series. Many of the films' stars provided the voices of their TV counterparts, with Dan Castellaneta (the voice of Homer Simpson) filling in for Robin Williams in the Genie role.
Aladdin was a hit, capturing the films' clever mix of fantastic adventure with off-the-wall comedy, usually from cynical Iago and the wisecracking Genie. After a successful run of original programs, the show continued in syndicated repeats and in a third feature, the direct-to-video Aladdin and the King of Thieves.
Release History
9/17/94 - 8/24/96 CBS/syndicated
Syndicated: 1994
TV Sub Categories
animated
sci-fi/fantasy
action/adventure
TV Studio
Disney
Television Cast
Aladdin Scott Weinger
Genie Dan Castellaneta
Iago Gilbert Gottfried
Princess Jasmine Linda Larkin
Abu Frank Welker
Rajah the Tiger Frank Welker
Abis Mal Jason Alexander
Akbar Jim Cummings
al-Bhatros Jason Alexander
Amal al-Kateeb Jim Cummings
Brawlhilda Carol Kane
Dominus Trask Jim Cummings
Faisal Frank Welker
Farouk Jim Cummings
Hamar Jim Cummings
Mad Sultan Jim Cummings
Mirage Bebe Neurwith
Mozenrath Susan Blu
Mozenrath Jonathan Brandis
Runter Michael Jeter
The Sultan of Agrabah Sheryl Bernstein
The Sultan of Agrabah Val Bettin
Wazou Jim Cummings
Xerces Frank Welker
Other Saturday Morning Links
<!- google_ad_section_end ->