<!- google_ad_section_start ->
Brylcreem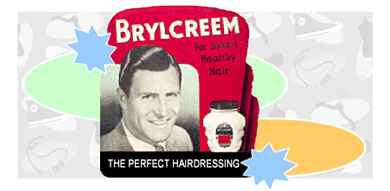 Fashion Synopsis
"Brylcreem, a little dab'll do ya!
Brylcreem, you look so debonair!
The gals will all pursue ya,
They'll love to get their fingers in your hair..."
A little dab? Maybe a little dab was good for all those squares, but a big fat dollop was the only thing going to tame your locks into the perfectly coiffed pompadour front and slicked back, ducktail nape.
Created in 1929 and mass marketed as the first man's hair product, Brylcreem was a greasy hair cream that was run through the hair, slicking each hair into perfect position. Teenage rebels who slicked their hair into pompadour ducktail hairdos were dubbed 'Greasers' after the shiny style, and for their use of copious amounts of the grease. No boy or man's grooming was complete without a dab of Brylcreem in his hair.
Brylcreem faced its demise once the shaggy haired Beatles hit the scene in the early 60's. Their long and unkempt fringe cuts hung loose across their foreheads, rather than the neat and respectable side part swept back with a dab of Brylcreem. The swinging 60's swept Brylcreem to the sidelines, and the goo eventually surrendered its popularity to Dep gel and hairspray (yes, for boys!).
50's revivalists kept Brylcreem alive during the 70's when John Travolta's Danny Zuko in the 1978 movie Grease sported a slicked back pompadour to make Elvis jealous. The Rockabilly subculture and retro lounge lizard look that resurfaced in the late 90's brought Brylcreem back for a moment of modern glory, keeping the spirit of grease alive into its eighth decade.
And to send you off to the stylist in style, here's a little Brylcreem trivia for you: What do Fred Flintstone and Brylcreem have in common? Fred's yell, "Yabba dabba do!" was inspired by the Brylcreem saying, "A little dab'll do ya."

Fashion Release History
1929 - Brylcreem
Fashion Sub Categories
hair
Design and Clothing Manufacturer
Brylcreem
Other Vogue Links
<!- google_ad_section_end ->