<!- google_ad_section_start ->
Danskin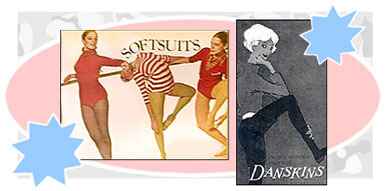 Fashion Synopsis
Not just for dancing anymore, Danskin dance apparel got their big break after movies like Fame and Flashdance made their big-screen debut in the early 80's. Soon every youngster was begging to be in the spotlight, and Danskin was backstage to provide all of your dance fashion needs. Makers of stylish casual wear that could travel from dance class to biology class, Danskin offered legwarmers, tights, swimsuits, dance skirts, leotards, dance shoes, and even headbands. Whether you wanted to get physical or dance like you've never danced before, Danskin made you look your best.
Danskin started as a small, family-owned business in 1882, which provided hosiery and women and children's clothes. The Goodman sons took over and created Triumph Hosiery, which specialized in theatrical stockings. By the 1930's, Danskin provided dancers in New York City with their dancing staples of knit tights and fishnet stockings. They were the first to mass market dance apparel, and in the process created the traditional colors of 'Ballet Pink' and 'Theatrical Pink.' The name of Danskin was chosen in 1950's when the company manufactured their first leotard. In the 60's, the company also produced fashionable children's sportswear in addition to their growing dancewear line.
Danskin apparel exploded on the disco scene in the 70's when dancers paired their bright spandex leotards, matching tights and wrap-around dance skirts with their platform sandals. The look was pure dancing queen, and the sheen of spandex was perfect for the disco ball's spectacular rays. The company had been waiting in the wings for mass acceptance of their dancewear, and disco raised the curtain. They produced disco dancewear that guaranteed to sparkle and shine out on the floor, helping to fuel the fad for dance streetwear that would debut a few years later.
When Jazzercise and aerobics became the craze after Olivia Newton-John's 1981 hit single "Let's Get Physical" and Jamie Lee Curtis' starring role in Perfect, Danskin offered pastel colors like baby pink, teal and sky blue. The look was surely not the bright colors of disco, but Danskin's second skin garments made the transition, becoming more popular than ever. Girls even wore their leotards to the beach as a swimsuit.
Danskin continues to make 'clothes for living,' integrating fashion and function in athletic apparel. They sponsor the only all-female triathlon series, embracing the motto: "If you can dream it, why not tri it!"
Fashion Sub Categories
girl's apparel
brands
Other Vogue Links
<!- google_ad_section_end ->