<!- google_ad_section_start ->
No-Bra (Rudi Gernreich)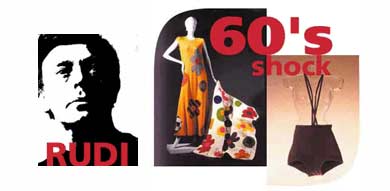 Fashion Synopsis
The new freedom of the sexually liberated 60's swung the pendulum to the far side. Not only did skirts go mini and expose more leg than had ever been seen before, but a new body-consciousness revealed itself in the form of pseudo-nudity.
Avant-garde designer Rudi Gernreich fashioned the infamous topless bathing suit, but he made even bolder headlines with his 'no-bra' bra. Gone were the constrictive shapers of pointed bullet bras, as well as the boned bustiers that pushed the bosom up and outward like missile projectiles. The 60's would burn the bra by the end of the decade, but this transitional undergarment would shock the world even more than freeboobing it would.
The no-bra was a bold change from the sculptural bosom of the previous decade. Featuring a soft, sheer cup, free of underwires and padding, the no-bra was quite similar to the original bra of the 20's. Both the 20's and the 60's celebrated the stick-like figure of adolescence, and with that meant small, flat breasts. The original bra was nothing more exciting than two handkerchiefs attached to a band and tied around the chest. Gernreich's no-bra was scarcely more advanced.
The sleek, slim styles of the 60's shift dresses demanded a flat bosom. Hourglass curves were shattered, and bullet bras dead. A new style of undergarments was in demand for the straight silhouette, and the concept was a bra that contained and secured, as opposed to thrusting and shelving. The no-bra was as braless as you could be before banning the bra became fashionable. Why merely look loose and free, when you can be?
Fashion Sub Categories
girl's apparel
Other Vogue Links
<!- google_ad_section_end ->