<!- google_ad_section_start ->
The Three Stooges (series)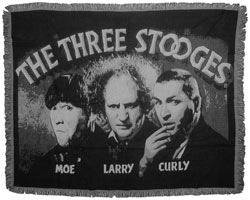 Synopsis of Movie
Slapstick comedy has inspired countless funnymen, from Charlie Chaplin to Jerry Lewis, to perform outrageous feats of physical comedy over the years. However, few performers define slapstick comedy as well as The Three Stooges. Starting with a series of short films, these gifted comedians put themselves through no end of contortions and mock-fights to make audiences around the world laugh. In the process, they became the most influential slapstick comedians of all time.
Like many early film comedians, The Three Stooges had a vaudeville background. Brothers Moe Howard and Samuel "Shemp" Howard worked together with Larry Fine and Fred Sanborn as The Racketeers, a quartet of sidekicks to vaudeville comedy legend Ted Healy. The Racketeers usually bumbled around, suffering much comedic abuse at the hands of the aggressive Healy.
The group broke new ground in 1930 when they appeared in their first film Soup To Nuts. After this film, Shemp and Fred left to pursue solo careers and were replaced by another Howard brother, Jerome (a.k.a. "Curly") and straight woman Bonny Bonnell.
Ted Healy and his Racketeers returned to film in 1933 with Turn Back The Clock. They would go on to appear in another eight films through 1934, the last being The Big Idea. At this point, Moe, Curly and Larry set out to find fame on their own.
The trio took on the collective moniker 'The Three Stooges' and signed a contract with Columbia Pictures to produce a series of short comedies that would accompany feature-length Columbia films. The series became an instant hit in its in its first year as audiences fell in love with the over-the-top antics of The Three Stooges.
The Three Stooges quickly developed an effective formula that was the basis for almost all of their shorts. In most cases, the group would bumble their way into a new profession (doctors, lawyers, prize fighters, palace guards) and immediately begin setting the world on its ear with their clumsy antics. There were often "dames" involved, who would leave the boys lovestruck as they ended up either fighting for their honor or fighting each other for the ladies' hands in marriage. Although the plots remained the same, the stories occasionally took place in past eras for variety, including medieval times (Restless Knights) and the Civil War (Uncivil Warriors).
Regardless of the setting, plot or period, the focus was always on the Stooges' antics. Moe was the aggressive one, always calling the shots and never hesitating the slap or hit the others if they didn't go along with him. Larry never wanted any trouble, always dragging his feet at any sign of danger and often whining over their misfortunes. Curly had a combination of child-like innocence and rambunctious good will that would later serve Lou Costello well in his comedy partnership with Bud Abbott. Curly did, however, have a show-off streak that often got them all into trouble.
Long stretches of each short would be devoted to the lowbrow joy of watching the trio slap, tweak, punch, and poke each other. These antics were often punctuated by Curly's unique schtick, which included making nutty noises like "nyuk-nyuk-nyuk" and doing strange interpretive dances where he would rub his hands over his face very fast, stamp his feet, and bark like a dog. However, none of the over-the-top brutality ever came off as unpleasant or threatening because it was done a cartoonish style, complete with wacky sound effects. These set-pieces set a tone for modern slapstick that is still followed by comedians today.
Between 1934 and 1947, Moe, Curly and Larry produced an amazing 97 short comedy films. Fan favorites from this era include Hoi Polloi, Violent Is The Word For Curly, In The Sweet Pie and Pie and Micro-Phonies. Three Little Pigskins is notable for an early appearance by future comedy legend Lucille Ball. The patriotic trio also satirized Adolf Hitler not once, but twice in You Nazty Spy and I'll Never Heil Again. During this period, the Stooges also appeared in the occasional feature like Time Out For Rhythm.
When Curly suffered a stroke in 1946, he was forced to retire from the act. Shemp returned to take his place, and the series resumed with 1947's Fright Night, which featured the Stooges as managers of a prize fighter who get into trouble with mobsters. Although not as out-and-out wild as Curly, Shemp still managed to attract plenty of attention with his double-takes and priceless facial reactions (especially the inimitable face he made whenever he got knocked out). The new lineup of the stooges made an impressive 80 shorts, including two in 3-D (Spooks and Pardon My Backfire).
Shemp died of a heart attack in 1955, and the remaining Stooges enlisted Joe Besser to take his place. Beginning with 1957's Hoofs and Goofs, this version of the Stooges produced 16 more shorts. The slapstick continued unabated in these shorts, but it became a lot less violent because of Besser's objections to extreme slapstick comedy. In fact, Moe never slapped Besser in any of these shorts because Besser wouldn't allow it. After Sappy Bullfighters in 1959, the Besser version of The Three Stooges decided to call it a career.
Moe and Larry were considering hanging up their Stooge shoes for good when a funny thing happened. After Columbia sold their library of Three Stooges shorts to television, the group experienced a dramatic upswing in popularity as their classic shorts became the hottest programming in children's television. Moe and Larry enlisted Joe DeRita, an old friend from their vaudeville days, to join the group, and the new Three Stooges made a feature film called Have Rocket, Will Travel. It depicted the trio getting accidentally launched into space and becoming national heroes in the process. When it became a hit, The Three Stooges were back in business.
Moe, always the businessman of the group, took their comeback success and used it to give their career as The Three Stooges a second wind. With DeRita (who was now known as Curly Joe), The Three Stooges began making a string of films Snow White and The Three Stooges and The Outlaws Are Coming that would continue through 1970's Kook's Tour. They also filmed wrap-around footage for a cartoon television series, The New Three Stooges, and spawned an array of merchandise that included comic books. They also made a side-career out of doing personal appearances.
After Kook's Tour, The Three Stooges retired. However, their antics have continued to live on through the years in many forms. They were reborn as computerized crime-fighters on Saturday morning's The Three Robotic Stooges. Classic Stooges footage was also incorporated into the plot of Stoogemania, a comedy about a young man obsessed with the Three Stooges. Meanwhile, their many classic shorts and feature films have become permanent staples of television programming, delighting generations of viewers. As long as people want to see classic slapstick comedy, there will always be an audience for The Three Stooges.
Movie Release History
1930 -
Soup To Nuts
1934 -
Woman Haters
1934 -
Punch Drunks
1934 -
Men in Black
1970 -
Kook's Tour
Movie Sub Categories
live-action
comedy
Movie Studio
Columbia
Cast
Moe Moe Howard
Larry Larry Fine
Curly Jerome Howard
Shemp Samuel Howard
Joe Joe Besser
Curly Joe Joe DeRita
Other Movie Links
<!- google_ad_section_end ->