<!- google_ad_section_start ->
The Iron Giant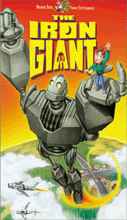 Synopsis of Movie
"My own giant robot… I am the luckiest kid in America!"
In the tradition of "boy and his robot" series like Gigantor and Space Giants, The Iron Giant was a tale of excitement, danger and one very large visitor from beyond the stars. Based on the 1968 book The Iron Man by British poet laureate Ted Hughes, the film hearkened back to a different era, both in setting and style.
The year is 1957. Sputnik has the U.S. government on edge, and classrooms run routine "Duck and Cover" drills to prepare for a nuclear attack. Into this paranoid atmosphere flies a 50-foot metallic creature, crash-landing in rural Rockwell, Maine. In town, nine-year-old Hogarth Hughes is desperate for a pet, but his single mother Annie is dead-set against it. When Hogarth, a huge sci-fi fan, hears a few locals talk about the robot's landing, he shifts his sights to a new goal.
Suited up in a military helmet and armed with a popgun, Hogarth follows the Iron Giant's trail of destruction to the local power plant, where the Giant has unknowingly walked into a high-voltage nightmare. Hogarth finds the "Off" switch and saves the Giant's life, earning himself a permanent friend.
Hogarth reunites with his metal-munching new buddy in the woods again and decides the two should be playmates. But the boy has seen enough B-movies to know that if the paranoid townspeople find out, there'll be trouble. With the help of local beatnik Dean McCoppin, Hogarth keeps the Giant out of sight, but a sinister, suspicious force has arrived from Washington, D.C.: Kent Mansley of the Bureau of Unexplained Phenomena. Mansley knows there's a Giant, and he wants it gone. When the army shows up armed for battle, the Giant is forced to confront his true nature and learn an important lesson: "You are what you choose to be."
Directed by Brad Bird, a Simpsons veteran and creator of The Family Dog, The Iron Giant was a far cry from most of its cartoon contemporaries. There were no musical numbers, no funny sidekicks, and the animation was done in a strikingly old-fashioned style. Critics praised the fresh look, the simple, heartwarming story, and its underlying message, but after being released on the same day as the mega-hit The Sixth Sense, The Iron Giant suffered a disappointing run in theaters.
Warner Bros. redesigned its promotional campaign for the film's video/DVD release later that year, hoping this underappreciated gem would finally get the credit it deserved.
Movie Release History
1999 -
The Iron Giant
Movie Sub Categories
animated
sci-fi/fantasy
Movie Studio
Warner Bros.
Cast
Annie Hughes Jennifer Aniston
Dean McCoppin Harry Connick Jr.
The Iron Giant Vin Diesel
Marv Loach James Gammon
Floyd Turbeaux James Gammon
Mrs. Tensedge Cloris Leachman
Kent Mansley Christopher McDonald
General Rogard John Mahoney
Hogarth Hughes Eli Marienthal
Earl Stutz M. Emmet Walsh
Voices Mary Kay Bergman
Ollie Ollie Johnston
Frank Frank Thomas
Voices Jack Angel
Voices Robert D. Bergen
Voices Michael Bird
Voices Devon Borisoff
Voices Rodger Bumpass
Voices Robert Clotworthy
Voices Jennifer Darling
Voices Zack Eginton
Voices Paul Eiding
Voices Bill Farmer
Voices Charles Howerton
Voices Sherry Lynn
Voices Mickie McGowan
Voices Ryan O'Donohue
Voices Philip Proctor
Voices Patti Tippo
Voices Brian Tochi
Other Movie Links
<!- google_ad_section_end ->