<!- google_ad_section_start ->
Honey, I Blew Up the Kid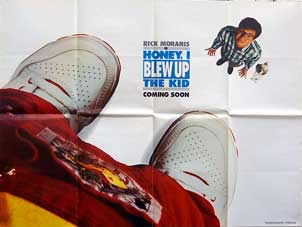 Synopsis of Movie
The "terrible twos" took on a whole new meaning in Honey, I Blew Up the Kid. This sequel to the surprise 1989 blockbuster Honey, I Shrunk the Kids added a new member to the Szalinski family and a new malfunction for Wayne Szalinski's infamous "electromagnetic shrinking machine."
After the events of the first film, Wayne sold his invention to a large conglomerate owned by greedy businessman Charles Hendrickson. Wayne now works for Hendrickson, "perfecting" the device at a lab near the family's new suburban Las Vegas home. Son Nick, now a teenager, is still a budding genius like his father, and Wayne takes Nick and toddler Adam to the lab to see his work. The ray is being re-engineered to grow rather than shrink, and Wayne unwisely decides to test the device on Adam's stuffed bunny. Naturally, little Adam wants his toy back, and he ends up in the path of the ray.
At first, it looks like the tot may be okay, but the ray has a curious side effect: every time Adam comes near an electromagnetic field, he grows. Tiny Adam turns into seven-foot Adam turns into fourteen foot Adam. Hendrickson kidnaps the boy to take him back to the lab, but the route takes them under high-tension electrical lines, and soon Adam is a Godzilla-sized terror, with Nick and babysitter/girlfriend Mandy stuck in the kid's oversized overalls pocket. Wayne can zap Adam back to baby size, but the boy has to sit still for the ray to work, and that ain't gonna happen. Especially not with the tempting, colorful (and yes, electric-powered) lights of the Las Vegas Strip beckoning the excitable young giant.
Rick Moranis and Marcia Strassman returned as Wayne and wife Diane, as did Robert Oliveri as Nick and Amy O'Neill as the oldest Szalinski child, Amy. Playing the role of Mandy was former Mousketeer and future Felicity star Kerri Russell, and veteran actor Lloyd Bridges also had a small part. Once again, the film benefited from spectacular effects work, as baby Adam chewed on full-size cars, dropped wrecking ball-sized peppermints from his pocket and wreaked general havoc along the Strip.
While not a breakout hit like the first film, Honey, I Blew Up the Kid was a summer family favorite in the traditional Disney mold. No more theatrical sequels were released, but the Szalinski family adventures continued in the direct-to-video Honey, We Shrunk Ourselves, a Honey, I Shrunk the Kids syndicated TV series, and an attraction at Disneyland's revamped Tommorowland, Honey, We Shrunk the Audience.
Movie Release History
1989 -
Honey, I Shrunk the Kids
1992 -
Honey, I Blew Up the Kid
Movie Sub Categories
live-action
sci-fi/fantasy
comedy
disney
Movie Studio
Disney, Touchwood Pacific Partners I
Cast
Wayne Szalinski Rick Moranis
Diane Szalinski Marcia Strassman
Nick Robert Oliveri
Adam Daniel Shalikar
Adam Joshua Shalikar
Clifford Sterling Lloyd Bridges
Charles Hendrickson John Shea
Mandy Park Keri Russell
Marshall Brooks Ron Canada
Amy Szalinski Amy O'Neill
Capt. Ed Myerson Michael Milhoan
Terence Wheeler Gregory Sierra
Constance Winters Leslie Neale
Nosy Neighbor Julia Sweeney
Nosy Neighbor Linda Carlson
Lab Technician Lisa Mende
Lab Technician John Paragon
Smitty Kenneth Tobey
Federal Marshal Bill Moseley
Las Vegas Couple Ed Feldman
Las Vegas Couple Suzanne Kent
Uncle Yanosh Alex Daniels
Motorcycle Officer Robert Jaffe
Motorcycle Officer Ron Lawrence
Helicopter Observer John Hora
Police Woman Mary Ellen Moore
Vegas Reporter Randy Swallow
Vegas Reporter Pamela Cederquist
Vegas Reporter James M. Lauten
Nevada Militia Shannon M. Steger
Japanese Tourist Minori Goto
Police Officer Gregory McCurdy
Japanese Tourist Mamoru Kanal
Rock Fan in Crowd David Scates
Hard Rock Reporter Marion Palmer
Highway Patrol Officer Bill Loska
Hard Rock Hostess Kathy Pastor
Quark Sammy
Other Movie Links
<!- google_ad_section_end ->