<!- google_ad_section_start ->
The Boy and the Pirates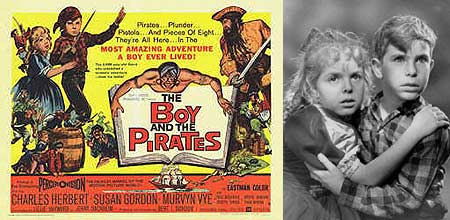 Synopsis of Movie
With his penchant for creatures, critters, and odd comic book types, B-movie producer/director Bert I. Gordon put plenty of ants, giants, and spiders up on the silver screen during the 50's, 60's, and 70's: cult classics like Empire of the Ants, Earth Vs. The Spider, and Village of the Giants. But in this 1960 fantasy adventure, he humanized the proceedings a bit, coupling two adorable kid actors with the some very Gordon-esque villains indeed—a menagerie of nasty pirates.
Jimmy Warren (child actor Charles Herbert, very busy in the late '50's and 60's) finds a bottle while he's walking on the beach. And sure enough, this bottle's a whole lot more than just potential recycling material. When Jimmy rubs it, a genie appears and agrees to a wish. Tired of his parents and homework, Jimmy figures he should sail one of the seven seas and have himself some adventure.
The genie, obedient in the way most magic genies are, promptly grants Jimmy's wish. He transports the boy back in time and smack dab onto a real life pirate ship. Unfortunately, the dread pirate Bluebird is the captain of this ship, but with the help of adorable new ally Katrina (played by Susan Gordon, daughter of the producer/director), Jimmy swashbuckles with the best of them.
The film was no blockbuster, but to fans of Herbert and of all things Pirate, it's a treasure (and a chance for bad metaphors as well!).
Movie Release History
1960 -
The Boy and the Pirates
Movie Sub Categories
live-action
sci-fi/fantasy
action/adventure
Movie Studio
Bert I. Gordon Productions, United Artists
Cast
Jimmy Warren Charles Herbert
Katrina Van Keif Susan Gordon
Blackbeard Murvyn Vye
Snipe Paul Guilfoyle
Abu the Genie Joe Turkel
Scoggins Archie Duncan
Hunter Than Wyenn
Dutch Captain Al Cavens
Peake Mickey Finn
Mr. Warren Morgan Jones
Morgan Timothy Carey
Other Movie Links
<!- google_ad_section_end ->