<!- google_ad_section_start ->
Little Lord Fauntleroy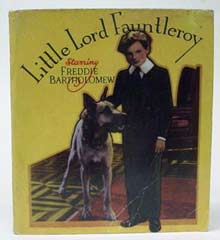 Synopsis of Movie
This 1936 version was the third of four feature adaptations of the beloved Frances Hodgson Burnett novel Little Lord Fauntleroy. Seeking to overcome the "prissy" image of the novel (Mary Pickford had played the lead in a 1921 silent film), producer David O. Selznick cast the Irish-born tough kid Freddie Bartholomew in the title role.
Bartholomew plays Brooklyn lad Cedric Erroll, who's macho enough to hold his own in a brawl but tender enough to call his mother "Dearest." The boy's father is the late son of the Earl of Dorincourt, a British nobleman with an extreme distaste for all things American. When the Earl learns that Cedric is the heir to his estate, he summons the lad to England.
Now sporting the title "Little Lord Fauntleroy," Cedric loosens up the stuffy Brits and wins his grandfather's love. But when a false heir shows up to claim the Dorincourt fortune, it's Cedric's old Brooklyn street pals who show up to set things straight.
Starring with Bartholomew were Dolores Costello Barrymore as "Dearest," C. Aubrey Smith as the grumpy Earl, and Mickey Rooney as Cedric's streetwise best friend. The picture was the first for Selznick's new Selznick International Pictures, and proved to be an early winner for the fledgling company.
After three adaptations in just over twenty years, the novel went unmined until a 1980 made-for-television version starring Ricky Schroeder and Sir Alec Guinness.
Movie Release History
1936 -
Little Lord Fauntleroy
Movie Sub Categories
live-action
drama
Movie Studio
Selznick Intl.
Cast
Cedric "Ceddie" Erroll Freddie Bartholomew
"Dearest" Erroll Dolores Costello
Earl of Dorincourt C. Aubrey Smith
Mr. Hobbs Guy Kibbee
Havisham Henry Stephenson
Dick Mickey Rooney
Lady Lorridale Constance Collier
Sir Harry Lorridale E.E. Clive
Mary Una O'Connor
Tom Jackie Searl
The Applewoman Jessie Ralph
Rev. Mordaunt..Ivan F. Simpson
Minna Helen Flint
Ben Eric Alden
Mrs. Mellon May Beatty
Other Movie Links
<!- google_ad_section_end ->