<!- google_ad_section_start ->
Gloria Vanderbilt jeans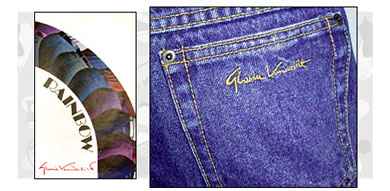 Fashion Synopsis
American royalty, sophisticated socialite, and forgotten little girl, Gloria Vanderbilt grew up to lord over one of the biggest apparel markets of the 80's. The heiress to the prestigious Vanderbilt family fortune made a name and fortune of her own when she scrawled her moniker and a trademarked swan across the back pockets of the hottest designer denim around.
Socialite Gloria Vanderbilt got into the denim market on a whim. Warren Hirsh wanted to inject some glamour into the down-to-earth, casual perception of the American jean, and he knew just how to do it. He needed a name, a well-respected name from America's own royalty to stand behind (an in) a pair of sexy, high-class denim jeans. And so he sought out a high-commodity public figure to sponsor a new designer denim jean. The Rockefellers turned him down. Jackie Onassis did, too. But Gloria Vanderbilt, well, she said yes. And the rest is history.
The designer denim craze started with a pair of super-slim, deep indigo jeans unlike any the world had seen before. Forget about the relaxed fit of Levis, these jeans were a second skin that showed off every curve and shape. And of course there was the golden name, in chic script, drawing attention to the skintight fit of the behind. It was more than jeans Ms. Vanderbilt was selling, it was sex. And oh, did it work...
Gloria Vanderbilt's designer denim prevented the copycat syndrome by transforming tight, stiff-legged denim into stretch leg. Her revolutionary design changed the course of denim: no more tight-legged, barely-can-sit-down-or-even-breathe stiffness of regular denim. Gloria Vanderbilt's jeans moved with you, stretching with every bend, every curve, every breath. And don't forget color: she left blue behind to introduce classic black, as well as an array of rainbow shades for a new spin on the once dull denim. A new denim was ushered in, thanks to the swan, and the woman behind it.
Fashion Sub Categories
girl's apparel
brands
Other Vogue Links
<!- google_ad_section_end ->