<!- google_ad_section_start ->
Soul Train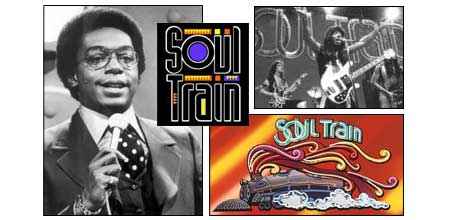 Synopsis of TV Show
Pop music has always shows like American Bandstand to sing its praises, but r&b music had to wait a while for its own major weekly showcase. Just the same, Soul Train proved to be well worth the wait when it hit the airwaves in the 1970's. This weekly extravaganza, which showed off the latest and greatest in soul music and dance moves, became a national sensation in the mid-1970's and became a pop culture juggernaut that broke new ground for African-American entertainment.
Soul Train was the brainchild of radio announcer Don Cornelius. After studying broadcasting in college, Cornelius got a job at WVON, one of Chicago's most popular urban radio stations. During this time, he pondered breaking into television with a dance and music show from an African-American perspective. In 1969, he produced a pilot episode and dubbed it Soul Train after a local radio promotion he had done in Chicago.
The pilot impressed the Sears Roebuck Company, which gave Cornelius some funding in exchange for the rights to use Soul Train to promote a line of record players. With this help, Cornelius launched Soul Train on WCIU-TV, a Chicago UHF station. Cornelius himself hosted the dance-stravaganza, which took place on a club-style set. The show featured performances by soul music acts, appearances by guest hosts, and scorching dance numbers from the Soul Train Gang. Local word-of-mouth made Soul Train a big hit in Chicago, which won it another sponsor in The Johnson Products Company, makers of Afro-Sheen.
Soul Train's relationship with The Johnson Products Company also helped it make the move from local television to syndication. With this company's financial backing, Cornelius moved the show to Hollywood and got it into television syndication in the fall of 1971. Only seven cities were on the initial lineup, but the Soul Train quickly picked up steam and began playing in new cities as its reputation spread. Pretty soon, people all over the country were enjoying the funky thrills that only Soul Train could provide.
By the mid-1970's, Soul Train was a force to be reckoned with. Each week, the latest hits and coolest dances were served up in a slick package that had kids of all ages and races dancing around the TV-room floor. Cornelius cut a stylish, unflappably cool figure as the host, making him an often-imitated icon in the entertainment community. Music groups clamored for an appearance on Soul Train, since it was practically a free ticket to r&b (and often pop) chart success. Today, many critics fondly remember Soul Train as the television show that did the most to bring African-American popular culture into American households.
As the 1980's began, Soul Train was as popular as ever. Tribune Entertainment, a Chicago-based company, became the exclusive distributor of the show and helped launch The Soul Train Music Awards. This yearly awards gala has become one of the most popular and respected awards ceremonies for r&b musicians and now enjoys 'institution' status in the music world. The success of this awards show has also led to other popular Soul Train spin-off specials like The Soul Train Lady Of Soul Annual Awards Special and The Soul Train Christmas Starfest.
In recent years, Don Cornelius has stepped down as the host of Soul Train and passed the role to Mystro Clark, who in turn gave way to Shemar Moore. Cornelius remains active as an executive producer for the show, which shows no signs of slowing down. With r&b music more popular than ever in the mainstream, viewers everywhere continue to shake their groove thing to the churning wheels of the Soul Train.
Release History of Prime Time Show
1971 - syndicated
TV Sub Categories
variety
Television Network
syndicated
Television Studio
Tribune Entertainment
TV Cast
Host (1970-97) Don Cornelius
Host (1997-99) Mystro Clark
Host (2000- ) Shemar Moore
Announcer (1971- ) Sid McCoy
Announcer (1971-78) Joe Cobb
Other Prime Time Links
<!- google_ad_section_end ->