<!- google_ad_section_start ->
Rags to Riches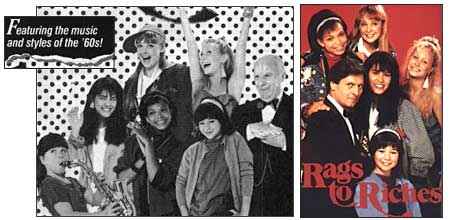 Synopsis of TV Show
It's safe to say there wasn't anything on late 80's prime time that was quite like Rags to Riches. This unusual one-hour mixture of comedy, drama and music was set in the 60's and told the story of dapper, wealthy playboy Nick Foley. Our man Nick needed a more respectable appearance to aid his business dealings, so he decided to impress a potential client by adopting a quintet of female orphans.
Rose was the tough leader of the group, Marva was the one with the smart mouth, Diane was the charismatic one, Patty was the tomboy, and Mickey was the youngest one. On the side of discipline was Clapper, the English butler who watched over the girls while trying to keep Nick's huge mansion in some semblance of order.
Adopted children and English butlers are old sitcom standbys, of course, but at least one element of Rags to Riches was certainly unexpected: The show often veered into bizarre territory in the form of musical interludes. Most episodes featured elaborately choreographed music numbers utilizing classic 60's pop tunes. In each number, the original lyrics of these songs were replaced with new ones that commented directly of the characters and events of the show.
This offbeat show was a moderate success, despite having its time-slot changed several times and lasted a season-and-a-half. It ended its network run in September of 1988, after which young star Tisha Campbell went go to sitcom success in the 90's with Martin.
Release History of Prime Time Show
3/9/87 - 1/15/88 NBC
7/3/88 - 9/11/88 NBC
TV Sub Categories
comedy
drama
Television Network
NBC
Television Studio
NBC
TV Cast
Nick Foley Joseph Bologna
John Clapper Douglas Seale
Rose Foley Kimiko Gelman
Marva Foley Tisha Campbell
Diane Foley Bridget Michele
Patty Foley Blanca De Garr
Mickey Foley Heidi Zeigler
Other Prime Time Links
<!- google_ad_section_end ->