<!- google_ad_section_start ->
Twisted Sister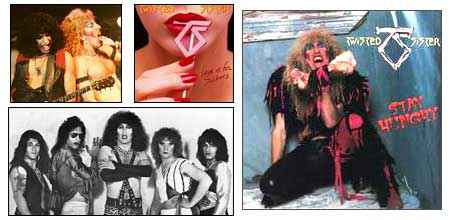 Synopsis of Pop Music
"What do you want to do with your life?"
"I wanna rock."
Okay, raise your hand if you bought Stay Hungry just for the shock value. For a kid entering that phase where every album selection was made specifically to frighten and/or annoy mom and dad, Twisted Sister was pure gold. The reason was staring at you from the cover of Stay Hungry: frizz-haired, garish-makeup-wearing Dee Snider, gnawing on a bloody leg bone. Sure, there were shades of 70's-era Alice Cooper, but the 80's needed a gang of shock rockers all its own, and Twister Sister fit the bill perfectly.
Formed in the mid-70's as the hard rock answer to disco's dominance, Twisted Sister hit the New York club scene with an outrageous, over-the-top look and sound. Singer/frontman Dee Snider may have been the most outlandish of the bunch, but guitarists Jay Jay French and Eddie Ojeda, bassist Mark 'The Animal' Mendoza and drummer A.J. Pero were no well-groomed mama's boys, either. The band's tongue-in-cheek glamour and intentionally offensive lyrics won Twisted Sister a strong reputation on the underground circuit, but little mainstream success. Two major label albums were released—1982's Under the Blade (originally released on the independent Secret label) and 1983's You Can't Stop Rock and Roll—but what an image-driven band like Twisted Sister needed was some major face time. The answer: MTV.
1984 brought the release of Stay Hungry, and with it, two comedy-driven videos that took MTV by storm. Both "We're Not Gonna Take It" and "I Wanna Rock" were anti-authority anthems, and the accompanying videos played up that adolescent rebellion with a "kids vs. parents/principal" storyline. The message was clear: The dolled-up headbangers of Twisted Sister weren't just rockers; they were anti-establishment heroes. Backed by chord-driven rock riffs and oft-repeated choruses, the two songs became radio and MTV staples, and Stay Hungry went double platinum.
Unfortunately, kids are a fickle bunch, always looking for the next big shock. Twisted Sister released a follow-up, Come Out and Play, in 1985, and while the album quickly went gold, it faded prematurely. Die-hard fans were still loyal, and the video for "Be Chrool to Your Scuel" got high marks from MTV viewers (before it was banned), but Top-40 radio was no longer interested in these leather-and-tiger-stripe-pants-wearing metalheads. The band had a memorable cameo in the film Pee-Wee's Big Adventure, and a final album, 1987's Love is For Suckers, but Twisted Sister broke up shortly thereafter.
Dee Snider moved on to form Desperado, eventually segueing into horror films (a natural fit) and a syndicated 80's metal radio program. As for the collection of scare-meisters known as Twisted Sister, they have yet to join the comeback tour bandwagon, but longtime fans can content themselves with best-of compilations (1992's Big Hits and Nasty Cuts), live albums (1994's Live at Hammersmith) and other treats from the vault (1999's Club Daze: The Studio Sessions).
Artist Release History
1982 -
Under the Blade
1983 -
You Can't Stop Rock and Roll
1984 -
Stay Hungry
1985 -
Come Out and Play
1987 -
Love is for Suckers
1992 -
Big Hits and Nasty Cuts – The Best of Twisted Sister
1994 -
Live at Hammersmith
1999 -
Club Daze: The Studio Sessions
Pop Sub Categories
rock
Essential Music Albums
Stay Hungry
(Atlantic)
Big Hits and Nasty Cuts – The Best of Twisted Sister
(Atlantic)
Band Members
Dee Snider vocals
Jay Jay French guitar
Mark 'The Animal' Mendoza bass
Eddie Ojeda guitar
A.J. Pero drums
Other Pop Music Links
<!- google_ad_section_end ->